Warehousing & Distribution Solutions for the 21st Century

Lynch Logistics provides dry, climate-controlled, food-grade, commercial and industrial storage along with specialized support services from our professionally trained staff.
Integrated warehousing & supply chain solutions for your business success
Our integrated supply chain solutions can help your business grow by minimizing your risks and helping you decrease your inventory and logistics costs. With multiple facilities strategically located in Bangor, Hermon and Auburn, Maine, we have direct access to Portland, Boston and all of New England and the Eastern United States. Centrally located in Bangor, ME and Auburn, ME our facilities are within minutes of I95, I395, I295 and Rt 9 (The Airline Road), the Bangor International Airport and Auburn-Lewiston Municipal Airport, and have direct rail access on the PAN AM and St. Lawrence & Atlantic Railroads. Our warehousing facilities are easily accessible from all points in Maine, New England, Atlantic Canada and the Province of Quebec. With more than 400,000 square feet of capacity there is no job that is too big or small. We understand how important cost-effective and efficient warehousing and distribution is to the success of your business and we go the extra mile to give you an edge over your competition.
Experience, Safety & First Class Customer Service
Our experienced management staff and professionally-trained crew will safely and efficiently handle your product from the time it arrives at our facilities until the time it leaves. (Our warehouse team is headed by Lynch Logistics' Director of Operations, Rick Randall, pictured, who brings with him more than 30 years of hands-on logistics management experience) We are much more than just a place to "store" your product. Our warehouses are fully equipped with a variety fork trucks giving us the ability to handle everything from palletized product to over-sized rolls of paper. If product segregation is essential, we'll utilize our multiple warehouse sections to make sure that your assets are never in jeopardy of being compromised. If storage isn't necessary and you just need a simple cross dock, we can handle that as well, quickly, safely and inexpensively. We pride ourselves on our flexibility and the creativity to provide our customers with innovative, simple and cost-effective warehousing solutions.
Our warehouse & distribution services include:
Secure long & short-term climate-controlled storage
Cross-docking
Dock, ground level and rail side service
Full truckload freight transportation
Dedicated freight and logistics Handling
Dry van and flatbed hauling
Professional Class A drivers
Staff that undergo a background check and drug screening
Product fulfillment and inventory management
Electronic Data Interchange (EDI) and barcoding
Caged storage, racked storage and secure facility management
Final mile and home delivery service

Get More Information
Since 1975 we have grown to over 400,000 square feet of controlled storage space servicing customers in Maine and New England and throughout the United States and Canada. Don't hesitate to contact us and find out how we can help your business.
Warehouse Locations, Capacity & Specs
Rice Street Headquarters, Bangor, ME
Square Feet: 142,000
Ceiling Height: 15 feet
Service Specs: Dry Storage, Product Fulfillment, Inventory Management, Electronic Data Interchange (EDI) and Barcoding, Caged Storage Suites, Racked Storage, Secure Facility Management
Truck Docks: 9; Rail Doors: 6
Equipment: Forklifts (up to 9,000 lbs), Bale Clamps, Roll Clamps, Long Forks, Carpet Pole
To Interstate: 1.6 miles
Rail Line(s): Pan Am
Airport: Bangor International Airport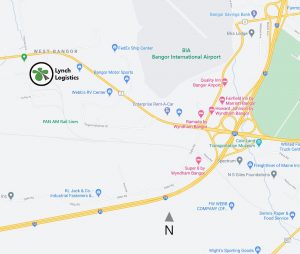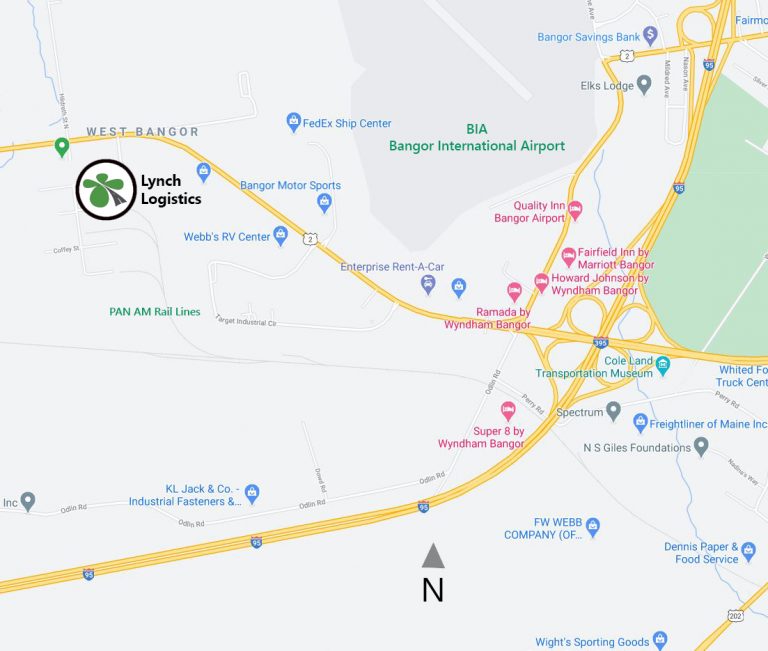 Freedom I Warehouse, Hermon, ME
Square Feet: 50,000
Service Specs: Dry Storage, Food Grade Storage, Drive-In Overhead Door (Interior Unloading), Inventory Management, Electronic Data Interchange (EDI) and Barcoding, Secure Facility
Truck Docks: 4 + 1 Drive-In; Rail Doors: N/A
Equipment: Forklifts (up to 9,000 lbs), Bale Clamps, Roll Clamps, Long Forks
To Interstate: 2.6 miles
Rail Line(s): N/A
Airport: Bangor International Airport
Freedom Yard, Hermon, ME
Square Feet: 100,000
Service Specs: Outdoor Yard Storage, Secure Utility Sheds, Gated Yard Truck Docks: Mobile Loading Ramp
Equipment: 2.0 Ton Cat Wheel Loader, Moffet Loader
To Interstate: 2.9 miles
Rail Line(s): N/A
Airport: Bangor International Airport
Auburn Inside Storage & Yard
Square Feet: 40,000 (4 structures) + 75,000 Outdoor Yard
Ceiling Height: 25 feet
Service Specs: Dry Storage, Floor, Level Load/Unload, Covered Rail, Inventory Management, Electronic, Data Interchange (EDI) and Barcoding, Secure Facility
Truck Docks: Mobile Loading, Ramp + 2 Drive-In
Rail Doors: 4
Equipment: Forklifts (up to 8,000 lbs),, Long Forks, Moffet Loader
To Interstate: 2.8 miles
Rail Line(s): St. Lawrence & Atlantic